July went crazy! But first a quick update from my last post. There are no pictures. We got new phones in June, and my memory card with all the pictures from 2012 is now lost…Jeff did it, but he can't remember where he put it. Boo.
I did get the job I interviewed for after my last post. It's a 1st Grade Job Share at Riverside Elem. in West Jordan. I will share a class with another teacher. She'll teach the morning Language Arts, and I'll teach the afternoon Math, Science/Social Studies, and integrated writing stuff! The school is moving back to Title One, the econ status is low, and I will probably see a lot of transient families and ELL students. Basically this means it's going to be TOUGH academically and behaviorally. But hey, I got into teaching to help the kids who struggle, to make a difference in their lives, and to be the kind of friend and role model so many young ones need. I wanted to do more than just teach the core, I wanted to teach the people and change their lives, so it's really the perfect situation for me, even though it's going to be difficult. Anyway, after several meetings, I think it's going to be awesome. The girl I'll job share with is a lot like me, so it's going to be rockin! AND it's a traditional schedule, so I don't have to start mid-July, my first day is at the end of August! WOOT!
Jeff didn't get the job at LinkedIn, even though they loved him. So we are not moving to California and I can keep this beautiful house we just bought! We probably will head out there someday, since Jeff's dream is to work for Google, but I have to be honest…I am personally grateful the offer didn't come. I love CA, but I felt very unsettled about moving there, so no offer at all was a blessing…it meant I didn't have to make the hard choice between Jeff's dream (LinkedIn is a part of the Google Campus, so he'd be right there…a part of it all!) and my heart. Thank you Heavenly Father for watching out for me on this one. I literally had nightmares about this decision…but all is well!
God watches over us and takes care, even in the silly things.
4th of July
We celebrated in our traditional way. Family BBQ's followed by fireworks at our house with popcorn and smoothies. Mmmmm…
GIRLY WEEKEND!
A few of my teacher friends and I flew to CA to see Sarah (another teacher friend who left us a year ago for sunnier skies). We spend the day in LA, doing all the touristy things like photographing the Hollywood sign, checking out that place where stars have stars on the sidewalk and cemented foot/hand prints. Not my scene…I guess I just don't get the whole "Hollywood" fad. Although, if I had seen a Beatles star, I might have been more into it.
We drove through Beverly Hills, walked down Rodeo Road to get Sprinkles Cupcakes/Ice Cream (good stuff and they have a cupcake ATM machine which is rad), ate at Pink's Hot Dogs (definitely a hot spot and an "I must return" kind of place), and played at the beach, which is always my favorite part. We went out to the Santa Monica Pier, rode some rides (my FIRST ferris wheel experience was out over the ocean…awesome!), ate some food, and enjoyed the ocean and palm trees. It was beautiful and I decided I am meant to be a beach bum. I could sit on the beach all day and all night, just staring out into the open sea, pondering, reflecting, and feeling. Aaaah….my 3rd heaven!
We spent a lot of time driving around and I thoroughly enjoyed the crazy awesome architecture and houses around LA.
We also spent a day in Bakersfield, where Sarah lives. It's pretty…cool.
We just enjoyed hanging out and being with each other! I am really happy we were able to go out and visit! It is always a great feeling to see a wonderful friend after so long! We had a great time, and I wish I had more pictures, but my camera and my phone died early on in our trip…so enjoy what little bit I have!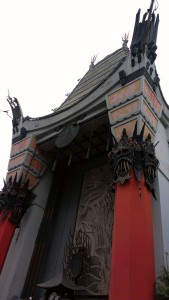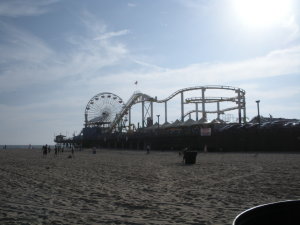 Anyway, we had a GREAT time and I am thinking it will happen again sometime soon, right ladies?!
Next…
After my weekend in CA, I went right to Girl's Camp, which needs it's own post…it was too awesome! The day after camp, Mark, Kelley, and Logan came to visit for a day or two. We headed to Evanston to celebrate Jeff, Jared, and Spencer's birthdays. The following day, we got to be there and participate in Spencer's priesthood ordination. It was pretty cool and he's excited to be a deacon!
Good times with family! I, of course, didn't think to take pictures, so this is all you get!
July was pretty busy in an awesome way! Hooray! Welcome August…