So…we've been busy. Surprise! I guess that's part of being an adult and having a job and a new house with a remodeling project. Most days for the past 4 months have consisted of waking up, going to work, eating a quick dinner, and heading down to the basement until midnight. Then we started over the next day…it was a continuous and occasionally vicious cycle and I admit…I complained a few times. Oops. BUT IT'S OVER! For the first time in over a year I feel stress free! No anxiety over jobs, finding a home, or fixing up a home. It's pretty sweet…kind of like being a kid when all you had to worry about was waking up in time for cartoons on Saturday morning.
I know there are more projects coming our way (yard work, cleaning out the crap in the garage left by the previous owners,) and being a teacher is rarely stress free, but holy moly I feel so light right now! YEAH!
**Quick insert because it applies so well. At school, I was teaching a reading group at story time lines. We were discussing past, present, and future. A discussion between students ensued and a few of them made religious connections. **I must point out, for legal purposes, that I didn't not start the conversations, engage in them, or teach religion in a public school.** A student stated that "the past was like when Nephites and Lamanites lived here. But then they didn't live righteously so they all died. Now we live here and that's like the present." That got another student going and out of nowhere he shouts out "The basement is hell!" I had to turn around and laugh…there was no hope holding it in. He may have continued making other connections, but I missed it because I was laughing so hard. Bahaha! I love my 1st and 2nd graders. This conversation happened relatively close to the end of our project and I was feeling burned out. I left school the following Friday laughing and telling the other teachers that "I didn't want to go to Hell!" We had a good laugh…Jeff had a good laugh…and I hope you do too!
So…the basement project is done (not perfectly…it was done with love and flaws) and we have rented the space to some great friends of ours who needed a good, safe, home where they felt they could continue to raise their family. We are grateful we were blessed with the ability to provide such a place for them. We are SUPER GRATEFUL for the family and friends who spent time down there helping us…especially my parents who I think spent AT LEAST  half their Saturdays in the past 4 months in our basement…it's a long drive for them to come down here and they did it happily, without complaining, weekend after weekend! They pretty much rule! We love you, family! Anyway…you can inquire below to see before and after shots of the basement (not good pictures…my camera isn't awesome AND…the air was so full of sheetrock dust the pictures came out blotchy) and some of the adventures we had as we worked tirelessly in "Hell." 😉
I'm sorry…maybe that is not appropriate. But seriously! 4 months of non-stop work down there and then just as I start to really dislike the project and dread going downstairs the "Hell" analogy comes out of nowhere? Coincidence? Maybe..but it was just the humor I needed to continue enjoying the work.
And we turned "hell" into a "heaven" for the Barnums, so I could totally continue the analogy and pull in things like repentance, change, the Atonement, etc. "Your personal dark places (I'm tired of swearing) can be changed to a place of light and happiness through faith (we WILL make this basement non-ugly), repentance (tearing down walls, changing purple walls to white, dark brown to soft tan), service (family and friends), and dedication (I worked as hard as any man)." See…we did good things.
Anyway…enjoy the pictures!
First I have to explain how awesome we are. We don't own a truck or an SUV, which you might think would make any large home improvement project impossible. Let me enlighten you. We drive a Prius. I never, ever, thought I'd own one. But we do and we LOVE it. Not only is it fuel efficient (averages a super sweet 45 mpgs yeah!), but it's ridiculously spacious. We fit the 36 inch vanity in it, the dishwasher, and 8 foot long (only 3.25 feet wide) pieces of sheetrock…among other things. You probably don't believe me, but I have proof.
And that is how we roll. If you ever need help moving or something, you just call us. We'll bring the Prius.
And now to the good stuff….the before and after shots of the basement! Beginning with the bedrooms.
We didn't start taking pictures until we had started working. The windows were "framed" with white baseboard…which we ripped off asap. You can see it laying on the floor! The walls have this rough texture on them, we tried scraping it off (as seen in the turquoise room), and then just skim coated the bedroom walls to smooth them out a bit. It was hard work, so we only skim coated the bedrooms…
We skim coated, painted, and had to re-sheetrock the inside of the window boxes. The previous owners left huge gaps between the window frame and the sheetrock. The spider gaps had to go! But LOOK! The difference is incredible! Clean carpets, new paint, better walls!
We moved on…to the bathroom and hallway at the bottom of the stairs. Oh sweet adventure
 We took down a wall, removed a door and added a wall, replaced the sink with a vanity, tiled the floor where the wall used to be, moved the auto vent inside the wall, rearranged and moved some electrical outlets, and CLEANED! And this is how it started…
And now for the after effects of all that hard work. The bathroom was crowded, there was no counter space, so the previous owners and put a cupboard-ish thing in next to the sink. There was not enough room for even one person to move around! The old vanity light had mismatched light fixtures, the paint was yellow, that weird wall took up half the space…I hate bathrooms, but this one felt worse than a small town gas station restroom…the kind you are afraid of. We are not awesome do it yourselfers, but we are VERY proud of the work we did in here… SEE!!!!!
FINALLY…the big room and the long, long, hallway. ALL of this area (walls AND ceilings) were a dark, poopy, brown. It made the whole basement feel small, dark, and depressing. I hated going down there alone. I am convinced we had a ghost down there. The whole thing just creeped me out. Go ahead…see how creepy it is.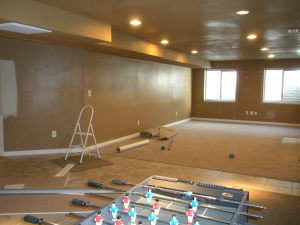 And then we hosted a "PAINT YOUR PANTS OFF PARTY!" We all started with our pants ON, and then got right to work.
 Family came, we painted, and installed cabinets. After we painted our pants off, the next few weeks were spent on putting together granite tile counter tops (cheaper than doing laminate!). Progress is awesome!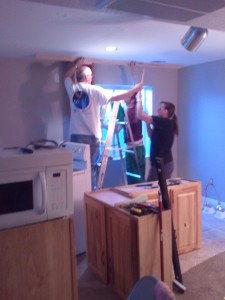 Well…our hard work in "hell" paid off! We finished installing cabinets, installed our counter top and appliances, added a new light fixture for the dark corners, and TA DA! You can live down here! The best part is though…I think we scared the ghost away. I am not creeped out by the basement anymore! Here is the finished project (minus the cabinet sitting on the floor by the fridge…we hung that one later)!
Again…I apologize for the crappy pictures. I don't claim to be artistic in anyway, and that includes photography.
But you get the idea. We worked our tails off and kicked the trash out of that basement and it looks AWESOME (as long as you don't look too closely…)!!!
Other recent happenings have happened, but I feel like this blog post is long enough already. I'll come back soon and brag…I mean…blog about the other fun we have in our lives.
HAVE A HAPPY DAY!