Maybe we aren't "that" cool, but it's been a few months, and we have stuff to talk about.
Or…perhaps to save time, I'll just do a photo update.
OCTOBER WAS RAD!
Jenn and Bryce invited us over for a night of "Human Clue." I've always wanted to do this, so I was super excited. Jeff…was a good sport
We showed up as Mr. Green and Ms. Peacock…and might I just mention how great we look!
It was probably one of the most creative and fun dates we've experienced in a while! Thanks Jenn for planning it!
As part of our Halloween festivities, my family got together and carved some sweet awesome pumpkins! Considering none of us really like Halloween…this was a big, fun, deal.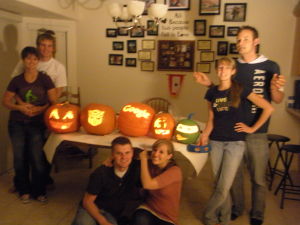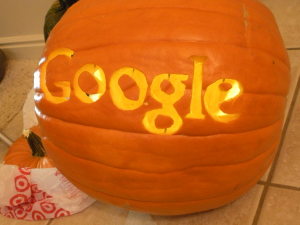 NOVEMBER WAS NEAT!
November was comprised of basically three things: Housing, Birthday-ing, and Traveling.
On my birthday, Jeff and I found out that the sellers were going to pay for some necessary repairs and we were able to continue moving forward in the closing process! YEAH! I also had a job interview (it went VERY well, but I didn't get the job…sad face). Afterwards we had the opportunity to attend the sealing for one of the women I taught 2nd Grade with! I can't imagine a better place to celebrate my birthday than in the sealing room of a temple! It was magic!
We then took a drive through our soon to be neighborhood and realized the awesomeness of the place. The super low HOA fees include a nice clubhouse and a pool! There are also several parks, (one with a splash pad), a fishing pond, construction zones with dirt piles for the kids to play in (not our kids…but still), and Walmart! All tucked away in subdivision! Seeing how awesomely located we were made us feel even better about our decision, despite the troubles we'd been running into. It was basically shaping up to be the best birthday EVER! Temples, houses, sweet neighborhoods, and all day with Jeff! I was so happy I couldn't sit still. But there were still goodies to behold. We got back to Layton and Jeff immediately ran to the garage and brought in a pretty big box. I couldn't figure it out…because all I wanted for my birthday was a house…and we had already gotten that! But he is SOOO thoughtful and found me a brand new sewing machine for a sweet deal! I was super excited. The company however, sent us the wrong machine, so we had to send it back and wait a couple weeks for the right one. But here it is! TA DA!
My parents are also very thoughtful and have recognized how much the phrase "happily ever after" means to me. I believe they do happen, but are created day by day. Jeff and I plan to create ours for the rest of eternity. My mom knows…and so she had this made for me!
The rest of November was simply splendid. We had deer visiting us at the Layton house, and spent Thanksgiving in sunny Arizona with our best families!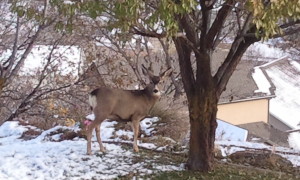 ARIZONIA!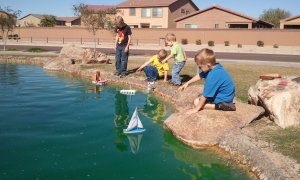 HOME SWEET HOME!
Right after Halloween, Jeff and I found out that the offer we made on a house in Riverton was accepted and we are now officially homeowners! YEAH! I just have to say how happy I am to be done with this process. Getting this house wasn't easy. We ran into a few snags along the way and for a while we were afraid we'd have to back out on the offer and start our search over. (I may or may not have freaked out a few times.) The house had high radon levels and had to be mitigated ($1500), carpets that smelled of pet urine ($850), and then…the microwave door "fell off" and needed to be replaced ($400). After a lot of negotiating (thanks to our super hip agent) the sellers agreed to pay for those repairs and we closed just before Thanksgiving. As you can tell, the sellers are very generous people and along with paying for repairs, they left us layers of dirt and a solid collection of "attractive" decorations (check KSL in a few days…you'll see). But I can't complain…they also left a pretty nice foosball table, dart board, and decorative-ish table! All in all…we got a good deal!
We moved in the first weekend in December and have been working our socks off to make the house CLEAN. After scrubbing tile grout and toilet bowls for a week and a half, I think I deserve something pretty…someone tell Jeff.  Anyway…the house needs a new coat of paint, and the basement is full of "fun" colors (and by that I mean…not pretty), so if anyone out there enjoys painting, let me know and I'll bake you treats and dinner for a month! 😀
Even though there is a lot of work to be done, we are so happy with where we are and feel very blessed to be able to have the means to provide a good home for our future family! Even though life decided to be tricky the last 6 months and change it's plans on us, the changes have been good and have led us to where we are. We believe in God's guiding hand and know that He has a greater plan for us than we had for ourselves. We've seen His tender mercies and blessings over and over and are overwhelmed with gratitude! Thanks to our families, friends, and Heavenly Father!